When designing this i wanted to make a map that was tailored to Fortnite and include some of the best gameplay aspects from their current and past maps (these are in the lists above). These aspects i felt were the best that they have produced and make the game more enjoyable.
When creating each locations i had to worry about Loot, lines of sights, rotations and materials just to name a few. Keeping all off this in mind i created the three main locations Real Estate Westlands and Army Base. These all have in dept Design Documents state all the gameplay aspects listed above and more to ensure when players drop into these locations they have the best experience  playing the map.
Real Estate is a small american town located near the sea. The location is overlooked by the main house 'The White House' . This is the biggest house with the most amount of loot drawing players to this house. However there is plenty of loot elsewhere and players can use different strategies to come out of the location alive.
Army Base is a docking station combined with an Army base. The location allows players to gain a vast amount of metal materials and has speed boats located in the harbour for players  rotate around the map. The loot is spread out evenly and will make players think about landing it the best spot to become the champion of Army Base.
Westlands is a western themed location taking player back in time to a cowboys vs Indians scenario. This location has plenty of open space and can catch players easily off guard. This location requires players to think about rotation without getting spotted in the large open gaps between buildings.
The map to the right is an overview off the whole island with thee main locations and the addition of 'Grotto' and 'The forest'. This would also be the map players would pull up in game.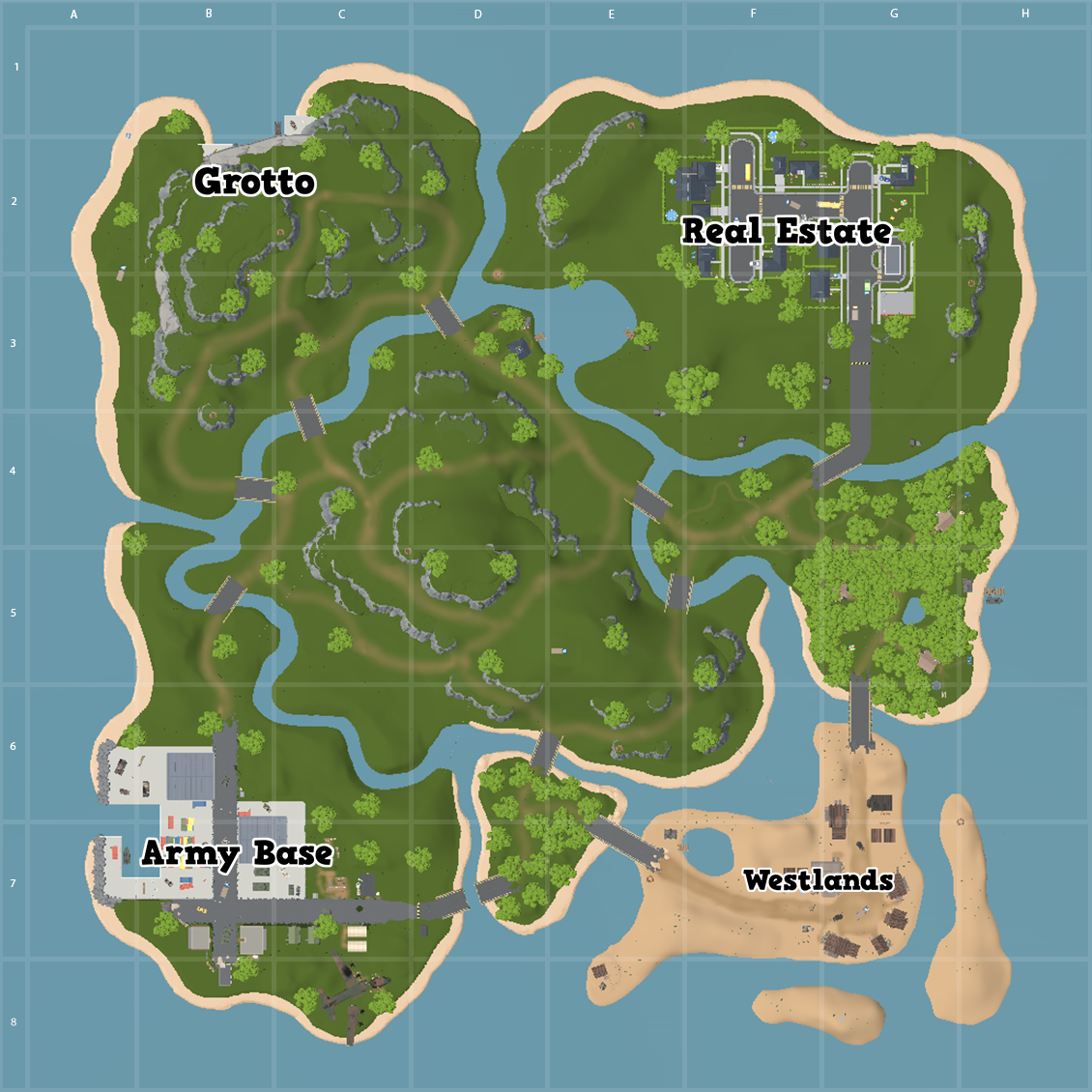 When meshing out the location i wanted to present the process in a g

ood way and this was by recording a time-lapse of each location and then cinematics of the location afterwards. The video on the left shows my work on the three main locations Real Estate, army base and westlands. 
Lighting was a challenge to replicate from fortnite, and i used many strategies they have used within their island. These are things like, 
Mesh Distance fields, Twin directional light system, Day and night cycles and more.
I felt these were good things to include when creating the island and gave me a challenge whilst completing the project.

​​​​​​​
Design Documents and Spreadsheets
Below are all the documents made during the process. This shows different aspects of the process including application to Fortnite's current game-modes and balancing loot spawning and rarities.